Deputy Prime Minister Datuk Seri Najib Tun Razak today distributed an RM80 million assistance package to Tamil schools, saying that it was not an by-election gimmick as it had been announced much earlier.
"Whatever we do, they will question. But this is as good as any other time. This is the actual giving out, the announcements were made much earlier before we knew about the by-elections," said Najib, who spoke at a press conference after giving out the allocation which will benefit 374 Tamil schools from eight states and Kuala Lumpur.

The RM80 million, of which RM50 million comes from the first stimulus package and the rest from the Ministry of Finance allocation, was distributed as follows: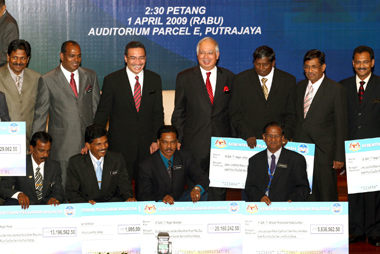 > Johor: 56 schools to get RM8.65 mil)
> Kedah: 49 schools (RM12.2 mil)
> Malacca: 13 schools (RM2.66 mil)
> Negeri Sembilan: 47 schools (RM1 mill)
> Pahang: 26 schools (RM5.28 mil)
> Perak: 85 schools (RM13.2 mil)
> Penang: 22 school (RM5.9 mil)
> Selangor: 67 schools (RM25.16 mil)
> Kuala Lumpur: nine schools (RM5.86 mil)
When asked to reveal his economic plans once he takes over as prime minister reportedly on Friday, Najib reiterated that he did not wish to talk about this at this juncture and told the public to wait for official announcements.
He said he will make a statement on Friday and "subsequently I will reveal more as time goes by".
"It will be about the economy, politics and the direction that the government is going to take," said Najib, who explained that he was refraining from commenting on this out of respect for the Yang di-Pertuan Agong.
"I have not had an audience with the King yet. Hopefully, the King will graciously give his consent," said Najib.
To a question, he said he will not be bringing any potential cabinet list with him when he sees the King.
Najib said that his One Malaysia Concept will be his platform when he becomes prime minister.
On the two characteristics of the concept, he said they are respect and mutual trust.
"We practice national unity by beginning with an attitude of mutual respect. When we have mutual respect, it means we have an open mind to accept unity in diversity," said Najib.
"The second principle is mutual trust. You have to develop the trust. It won't happen overnight, it has to be consciously developed in an organised manner."